History of Particle Research Facility

The Particle Research Facility is dedicated to the advancement of research, innovation, and technological development through the provision of an affordable, easy to access facility and a platform for collaborative research and development.

The Particle Research Facility (PRF) was established in the fall of 2005 under the direction of Prof Jesse Zhu, and Prof Sohrab Rohani from the Department of Chemical and Biochemical Engineering, Faculty of Engineering, the Western University. Prof Jesse Zhu is the Canada Research Chair in Powder Technology Applications and Prof Rohani is the Chair of the Department of Chemical and Biochemical Engineering, as well as the director of Control and Crystallization of Pharmaceuticals Laboratory.
PRF is part of Particle Technology Research Western (PTRW), which was formed to combine the efforts of researchers working in the powder technology and fluidization area and to create a world leading particle R&D facility. As an organization the PTRW facilitates the consolidation of efforts from a number of member professors and research groups totaling over a hundred graduate students, post doctoral research fellows and other researchers in the past 5 years. The PTRW also fosters enhanced collaboration with industrial and other external partners.
The researchers involved with Particle Technology Research Western have been very successful and thus significant research funding has been received from NSERC, industrial collaborators and other sources. In particular, a large $4.8M grant was awarded to Profs. Zhu and Rohani on ultrafine powder technology by Ontario Research and Development Challenge Fund (ORDCF) in 2000 and two Infrastructure grants ($1.7M + 5.2M) were given to Prof Rohani (2001) and Prof Zhu (2003) by Canada Foundation for Innovation (CFI) to provide important infrastructure support for particle research at Western. In 2004, a Tier-1 Canada Research Chair was also established with Prof Zhu as the chair holder for powder technology applications within Particle Technology Research Western. In total, the core members have received over $15M of research funding in the past five years and have produced over 200 publications in the same period. Particle Technology Research Western now has over 10,000 sq ft of lab space and over $4M worth of instrumentation, plus another $1M of experimental apparatus including over 20 various fluidized bed reactors. Over 30 graduate students received their degree in the past 5 years under the direction of the core members.
Also from this web page: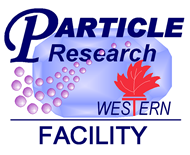 Contact Info
Particle Research Facility
Yong Liu, Manager Thompson Eng. Bld., Rm. 217
Tel: (519) 661-4243
Fax: (519) 661-3498
Email: prf@powders.ca
---