UV-Visible Spectrophotometry

UV-VIS Spectrophotometry is used to determine the identity of a compound based on absorption or transmission of UV/VIS light . It can also be used to measure concentrations of absorbing materials based on developed calibration curves of the material. It is used extensively in the Pharmaceutical, Biotech, Environmental Testing, and Agricultural industries.
Agilent 8453 Spectrophotometer
The Agilent 8453 spectrophotometer comes equipped with all the diode-array advantages. It scans fast, has excellent sensitivity, virtually absolute wavelength reproducibility, exceptional ruggedness and reliability. It also has better than 2nm resolution, wavelength range of 190 to 1100 nm and less than 0.03 % stray light is standard.
Cary 100Bio Spectrophotometer
The Cary 100Bio spectrophotometer is equipped with variable slits that allow optimum control over data resolution down to an impressive 0.2 nm resolution. It also has a phase locked wavelength drive to prevent peak shifts and peak suppression at high scanning speeds, and the Cary Bio package with modules for all of your life science.
Please contact us for more information and quotes on PRF's UV-Visible Spectrophotometry Services. For information on standard Charges please click here.
Also from this web page: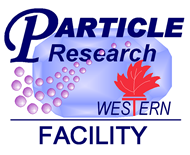 Contact Info
Particle Research Facility
Yong Liu, Manager Thompson Eng. Bld., Rm. 217
Tel: (519) 661-4243
Fax: (519) 661-3498
Email: prf@powders.ca
---